What is your question?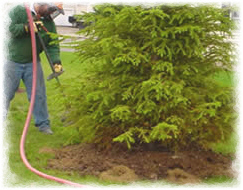 Below are some frequently asked questions about lawn care services and maintenance.

What is Aeration?
Aeration is one of the most important things you can do for your lawn. It is the process of removing thousands of plugs of thatch and soil approximately 2 inches deep and 5/8" in diameter from the lawn to improve soil aeration. Click Here for More on Aeration...



Seeding-Where should it be done?
Large bare areas
Thin or bare areas in the shade
Damaged areas from diseases or insects
Click Here for More on Seeding...